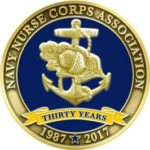 The Bay Area Navy Nurse Corps Association (BANNCA) is one of 14 regional chapters of the Navy Nurse Corps Association, a non-profit organization promoting the Navy Nurse Corps legacy through camaraderie, mentorship and historical preservation.
Mission: Through Chapter activities, BANNCA will:
Foster social networking and collegiality among current and former Navy Nurses
Promote and enhance the image of Navy Nurses in the community
Provide opportunities for group service projects with fellow members, with emphasis on beneficiaries who are current and former members of the US Uniformed Services and their families
Share information of interest to members about regional activities relevant to Navy, military nursing, Veterans, and other local Veteran Service Organizations
Support the mission and goals of NNCA
Membership: All Active, Reserve, former, or retired Navy Nurse Corps Officers living or working in the Northern California or Nevada area, or previous affiliates with ongoing interest, are eligible for membership.
Website: http://nnca.org/join-nnca-2/local-chapters/bannca/
Contact Information: [email protected]
Meetings: Please see the website page for meetings and activities, held throughout the Bay Area.