We Need Your Pledge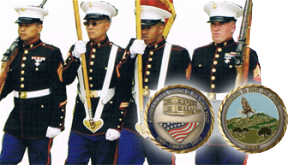 Donors who donate $500 and above are awarded a beautiful Challenge Coin commemorating the history of the Veterans Memorial building.and our veterans.
Every Pledge of $1,500 or More Will Be Celebrated 
on our permanent Donor Recognition Board.
Note: All Gifts Can Be Made In A 3-Payment Pledge
Legacy Opportunities Fulfilled
Legacy Opportunities Available
2009 Capital Campaign Brochure
List of Supporting Businesses
Endowment Fund
Veterans Wing Operation Fund
Everyday community members from throughout the San Ramon Valley and beyond are showing their support by pledging a financial contribution to the restoration and expansion of the Danville Veterans Memorial Building.  Please show your support by pledging your contribution today by calling 925-362-9806.
Veterans Memorial Building Capital Campaign 
 P.O. Box 1092 Danville, CA 94526 925.362.9806

VMBDC is a 501 (c) (3) organization
Office Hours: Monday-Friday 9:00 AM – 3:00 PM