Veterans Memorial Building Museum and Historical Collections
Library and Historical Collections Mission:
To honor the service and sacrifices of our country's veterans, to educate and foster appreciation, understanding and knowledge of our country's history; our mission is to collect
and preserve memorabilia and books of the military history of the United States with special emphasis on veterans and their families of the San Ramon Valley.
Museum Guide
This guide is intended to inform docents and visitors to the VMB about the memorabilia in the displays. The exhibits will evolve as new items are obtained or as things are rotated from storage. Please forward any questions or comments to info@vmbsrv.org or to Tim Sammons, Curator, Library and Historical Collection Committee at curator@vmbsrv.org.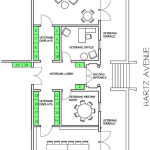 Floor Plan (click floor plan to enlarge)
Shown here is a plan view of the first floor of the veterans area of the Veterans Memorial Building. Enumerated and highlighted in green are the cabinets that house the Museum and Historical Collections, roughly in order of military conflict (when applicable).
Top Shelf:
Portrait of William C. Schneider, 77th Division, 305th Field Artillery
M1917 Eddystone/Enfield Rifle caliber 30-06
Lithograph commemorating "Wounded in Action," William C. Schneider
Steel "Doughboy" helmet
Dog tags of Valley veteran, Louis Silva
Boots and leggings
Middle Shelf:
Map of Germany
Mussette bag
Compass
Diary ("Agenda")
Book: "History of the 305th Field Artillery"
Personal camp photos
German matchbox holder and ashtray
Bottom Shelf:
Gas mask with filter and carrying case
I.D. wallet
Shaving kit
New Testament
Paris souvenir photos, booklets, currency and coins
On Wall:
Charter of American Legion Auxiliary, June 7, 1924
Top Shelf:
Lithograph from Republic of France commemorating death of Valley veteran, George Freitas (see photo)
M-1903 Springfield rifle
Garrison cap
Navy cap
"Trench art" (design hammered into 75mm cannon shell)
Newspaper from July, 1917
Blue Star banner
Cartridge belt
Pistol holster
Bottom Shelf:
Uniform of Valley veteran, Lorenz Humburg, US Army 347th Field Artillery (see photo)
Dog tags (Humburg's on uniform and Petitjean's below)
Artilleryman's protective leather gloves
Troop ship, RMS Aquitania, that delivered Humburg to Europe
Letter from King George V to US troops with personal notes
347th Field Artillery Roster
Bolo knife
Infantry Drill Regulations book
Manual of Guard Duty (US Army 1914),
Poem, "In Flanders Fields," by Lt. Col. John McCrae (with poppies)
M-1910 metal canteen
Mess kit
"Trench art" artillery shell
On Wall:
Charter of American Legion Post 246, January 24, 1921
Cabinet 3 WWII (South Wing)
Top Shelf:
Map (ETO/Germany)
Signal flags, code flag flash cards, and semaphore alphabet diagram
US Marine Corps campaign hat
Ammunition (37 mm Anti-tank rounds, 60mm Mortar, "Pineapple" training hand grenade)
M-1910 Canteen (cover, cup and case)
Tankers goggles
Trouser leggings
Fighting knife with sheath
Model of M-4 A-3 (76) Sherman tank with 90mm anti-tank gun
Middle Shelf:
POW camp canteen shortwave radio replica
Issued nail clippers
Ration cards for domestic food purchase
Individual mess kit with canteen
Cigarettes, cigarette lighter and match books
Bottom Shelf:
Aviator's canvas helmet lining with goggles
Rifle cleaning kit
"Trench art" knife made from copper rotating band of artillery shell
"Trench art" cigarette lighter from bullet
Service prayer book
AN/CRC-7 downed pilot rescue radio
Cigarette case
TL-29 general purpose pocket knife
Military pay chits
Semaphore signal guide and pocket signal guide disc
Cabinet 4 WWII (South Wing)
Top Shelf:
Poster (45th Infantry Division Campaign)
1949 Pinup calendar
Army Air Corps leather flying jacket
"Sweetheart jewelry" for sweetheart back home
Flag design compac makeup case
Model of B-25 Mitchell bomber (similar to Doolittle Tokyo raid aircraft)
"Short snorter" currency notes signed by fellow crewmen
Fragment of German anti-aircraft flak shrapnel
Bottom Shelf:
Captured German war souvenirs belt and buckles, dagger, bayonet, coins, "Hibernia" pennant, and Nazi armband
German "butterfly" cluster bomb
German tourniquet with illustrated first aid guide
German road maps
German coins
Cabinet 5 WWII (South Wing)
Top Shelf:
King Neptune's visitor dive certificate –Territory of Hawaii and photo
Plaque of submariner's dolphin insignia
Commemorative Pearl Harbor Survivor flask
Naval ship commissioning pennant
Medal set of Valley veteran, Dudley Kennedy
Second Shelf:
Gas mask
Trench art (hammered design in "Pom Pom" cannon shell)
Oahu newspaper headlined December 7, 194, Pearl Harbor bombing
Photo of young women with gas masks beside bomb crater
Fragment of Japanese Zero airplane
Entrenching tool case
Japanese currency and cigarettes
Third Shelf:
Musette bag
M-3 trench knife and sheath
Reproduction "fox-hole" radio made with razor blade and pencil
.50 cal & 20 mm ammunition
Photo of USMC Code Talkers on Guadalcanal.
Black volcanic sand and shrapnel from beach of Iwo Jima
Bottom Shelf:
Red Cross kit with personal items (shaving kit, condoms, razor blades)
Admiral's shoulder boards
TBY-2 Radio as used by Navaho Code Talkers
Shore Patrol Armband
Cabinet 6 Miscellaneous Items (Upper South Wing)
Top shelf:
Miscellaneous hats of different branches and eras
Lower shelf:
Formal fore/aft hat, epaulets and sword belt in metal case from 1939 graduate of US Naval Academy
On hanger below:
1942 U.S. Military Academy Great Coat from Valley veteran
Cabinet 6A WWII and Korea, Field Equipment (Lower South Wing)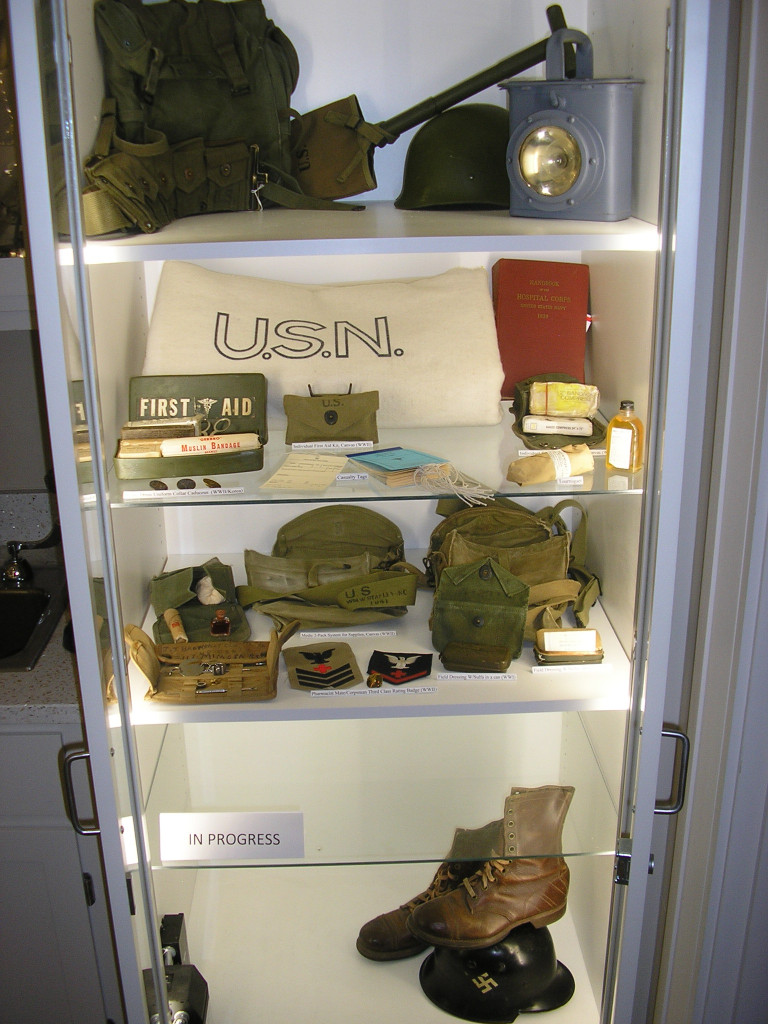 WWII and Korea, Field Equipment – Cabinet 6A (Lower South Wing)
Cabinet 7 WWII (South Wing)
Upper Shelf:
Section of teak deck from the USS Missouri.
Lower Shelf:
Commemorative leather jacket painted with a picture of the USS Missouri battleship
Model of the USS Missouri, BB-63 The USS Missouri is permanently berthed in Pearl Harbor on Battleship Row, next to and facing the USS Arizona.
Photo of General Douglas MacArthur signing Instrument of Surrender The documents that ended WWII in the pacific theater were signed by representatives of the government of Japan and Allied officers on the deck of the USS Missouri while moored in Tokyo Bay after the surrender on September 2, 1945.  On left is General Wainwright who was captured in Corregidor.
Photo of General Yoshijiro Umezu signing Instrument of Surrender for Japan in front to representatives from Allied Forces
Cabinet 8 WWII (South Wing)
Base shelf:
"Eisenhower" infantryman's jacket
Honorable Discharge "Ruptured Duck" patch, Technician 5th Grade stripes, four Overseas Service stripes, and Advanced Section Communications Zone ETO shoulder patch
US Rifle, Caliber .30 M-1 Garand / Semi automatic 30-06 caliber (the main battle rifle of the US in WWII and Korea)
"In my opinion, the M-1 rifle is the greatest battle implement ever devised." General George S. Patton
30-06 caliber training round and eight-round ammunition clip
M-1 steel helmet
"Bolo" knife issued to Army medics and Navy corpsmen to cut stretcher poles for evacuating casualties
Sight for grenade launcher
Cigarettes
Campaigns of the 45th Infantry Division "Rhineland" poster
Cabinet 9 WWII and Korea (South Wing)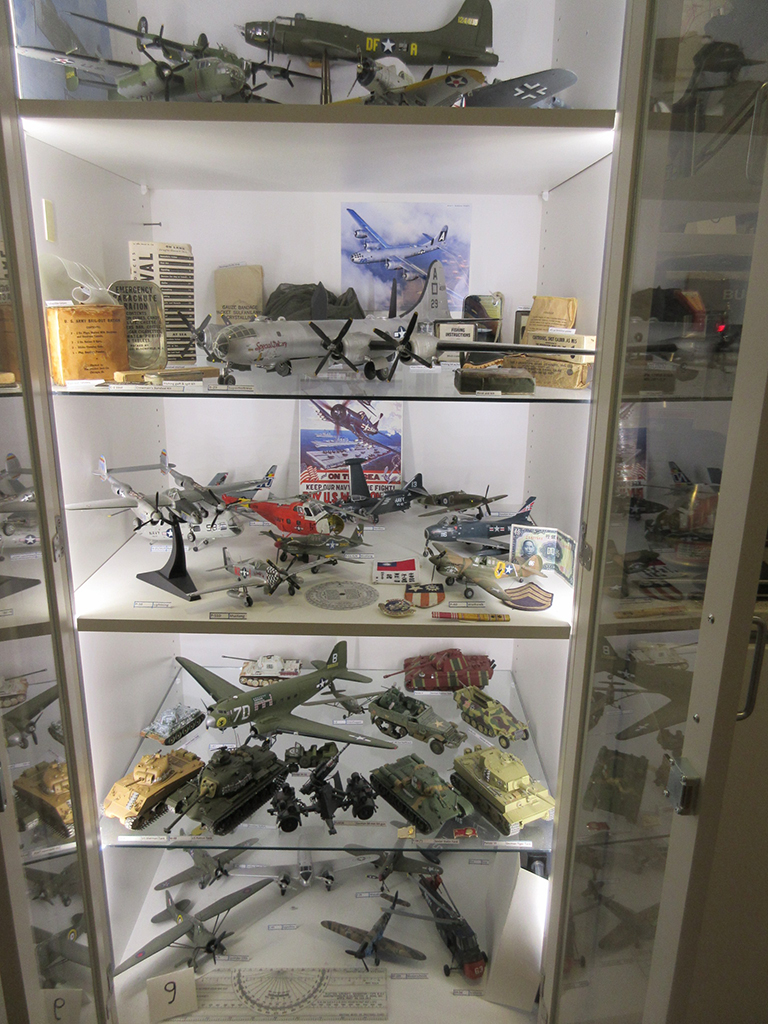 WWII and Korea Cabinet 9
Cabinet 10 Korea (South Wing)
Background lower case:
Korean War timeline posters
Top Shelf:
M-1 .30 caliber carbine rifle with carrying case
Spare magazine case
Woolen trigger-finger mittens
.50 caliber machine gun training belt
Early jet pilot helmet-USN/USMC
Middle Shelf:
Model: Underwater Demolition Team frogman LCPR recovery boat
Trench art knife
Cold weather helmet liner
Bible
Bottom Shelf:
M-1910 canteen, case and cup
50th Anniversary Korean Government commemorative medal
Life raft inflation cylinder
Gas mask
Dog tag
"Zippo" cigarette lighters
Camp Yokohama Mess tickets
URC-4 pilot rescue radio
Cabinet 11 Vietnam (North Wing)
Top Shelf:
Tactical Map
Plain of Reeds RVN
Captured NVA Officers belt
Chicom 7.62 mm anti- aircraft machine gun sight
Pilots revolver holster and belt
RVN flag
South Vietnamese mercenary beret
Letter to home on C-rat box
Commemorative plaque
Rifle cleaning kit
Service ribbon bar
Middle Shelf:
Meal
Combat
Individual "C-Rations" with spoon
P-38 can opener
Soviet/Chicom 7.62×54 (PKM machine gun/ Mosin Nagant and Dragonov sniper rifles)
7.62×39 (AK-47 and SKS rifles) cartridge casings
U.S. 5.56 mm (M-16 rifle) and 7.62x51mm (M-14 and M-60 machine gun) cartridge casings
Overseas hat
U.S. Army airborne
Bottom Shelf:
M26 "Lemon" hand grenade
Underwater Demolition Team/SEAL Team sticker
TURDSID seismic intrusion detector
M-7 bayonet for M-16 rifle
Canvas top panama sole jungle boots
Novel (local author)
Vietnamese news paper featuring local Army officer
Booby trap trip wires
PBR photo
Cabinet 12 Vietnam (North Wing)
Main Case Rear Panel:
Viet Cong flag
Map of Southeast Asia
Top Shelf:
M-1 helmet, Mitchell camouflage cover
LSA rifle lubricant
M-1961 plastic canteen
LRRP: Long Range Ration Patrol
(first attempt at freeze-dried combat rations)
Entrenching tool
Bottom Shelf:
US Army Coat, Combat, Tropical, 3rd Pattern
Boonie hat
K-Bar knife with M-8 sheath
Soviet "ChiCom" SKS rifle bayonet
URC-64 pilot rescue radio
Vietnamese translation dictionary
Ration bar: compressed cornflakes
Zippo cigarette lighter
USMC-issued sewing kit
TL-29 Electricians knife
Model: UH-1 "Huey" helicopter
Draft card
Cabinet 13 Gulf War – Operation Desert Shield / Desert Storm (North Wing)
Back Panel:
Top Shelf:
Kevlar helmet
Mine field warning sign
M-17 gas mask with cover
Middle Shelf:
Arabic Pepsi can
Unit coffee cup
Meal-Ready-To-Eat, MRE accessories and heater pack
Canteen with gas mask drinking tube port
Arabic cultural training booklet
Bottom Shelf:
Desert Battle Dress Uniform (DBDU) – "chocolate chip" camouflage with cover
Personal chemical contamination detection/identification and decontamination kits
Saudi coins
Atropine and 2-PAM Chloride auto injector syringes (nerve gas mitigation)
Scud Missile debris and warhead photo
Stars and Stripes newspaper – (Saddam vows to use nuclear weapons)
Page from People Magazine with intricate censoring of woman's skin by Saudi religious police in the Saudi post office system
$5.00 lost bet over potential Scud missile strike
Cabinet 14 Missing in Action / Prisoner of War / Killed in Action Memorial (North Wing)
Upper Cabinet:
Dress uniform, Lance Cpl. Kyle D. Crowley USMC (San Ramon) KIA in Iraq April 6, 2004
Main Case Rear Panel:
"Some Gave All" (listing of Valley men who have perished serving our country)
Blue Star banner (family member in the service) with lapel pin (WWII)
Gold star banner (family member killed in action)
POW/MIA logo
Top Shelf:
Field uniform, Lance Cpl. Joshua "Chachi" Corral USMC (Danville) KIA in Afghanistan November 18, 2011
John Boswell's engraved canteen cup from Japanese POW Camp, Cabanatuan Philippines
Folded American flag
Bottom Shelf:
Miniature Prisoner of War/Missing in Action Remembrance Table
Formal POW/MIA Remembrance Ceremony
Cabinet 15 Aircraft and Equipment, Post 1960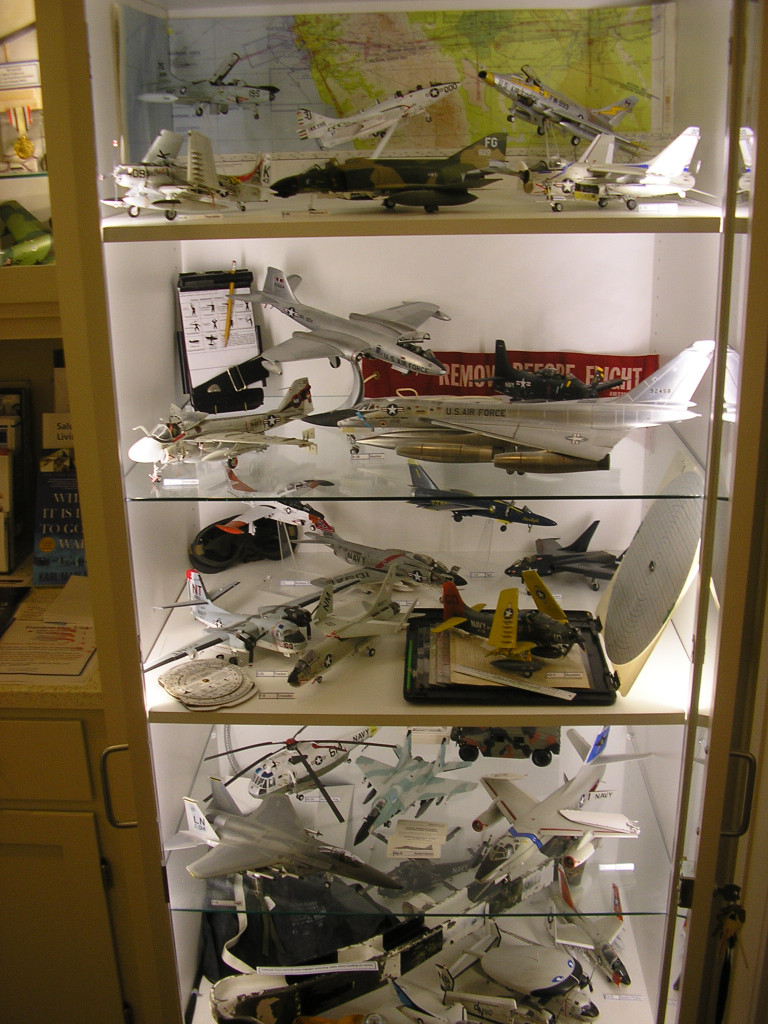 Aircraft and Equipment, Post 1960 – Cabinet 15
Cabinet 16 Operation Iraqi Freedom / Operation Enduring Freedom (North Wing)
Top Shelf:
MARPAT field uniform with boonie hat
Hot weather combat boots
Goggles
Army Ranger beret
Afghan Pashtun hat
Iraqi Republican Guard beret
Booklet: "Improvised Explosive Devices Threat Guide"
B-52 model
Chandelier "jewel" from one of Saddam's palaces ("liberated" as a souvenir during Operation Iraqi Freedom)
Bottom Shelf:
Model: M-1 Abrams tank
Model: A-10 "Warthog"
Iraq Campaign medal
Cabinet 17 Cold War (North Wing)
Main Case Rear Panel:
US Navy Union Jack flag (flown aboard PTF-17)
Top Shelf:
Soviet Air Force pilots hat
"Russia Sucks" novelty cap (Philippines)
Honorable Discharge and training certificate
Dog tags
Second Shelf:
Model: P-3 Orion anti submarine warfare patrol aircraft
7.62 mm training blanks for M-60 machine gun
Sidewinder missile nose cone
FEMA civil defense booklet
Air Raid Warning Instructions
Air raid siren
Seebee playing card deck (not yet in photo)
Third Shelf:
Sonobuoy launch parachute
Cold war unit insignia patches
Bottom Shelf:
SSQ-53 air-dropped Sonobuoy and hydrophone
Mock Soviet submarine
Coffee mug (Naval Support Facility, Diego Garcia, Indian Ocean)
Cabinet 18 Vietnam Era PTF Boat, Post 1960 Field Medical Equipment
Vietnam Era PTF Boat, Post 1960 Field Medical Equipment – Cabinet 18
Cabinet 19 Operations Other Than War (Elevator Lobby)
This photo collection illustrates some of the many non-combat operations of all the US Military Services.  This of course includes the US Navy, US Army, the US Marine Corps, the US Coast Guard and the US Air Force.
These photos include operations supporting US efforts in earthquake, famine, drought, civil war, refugee and environmental relief work.  They include Search and Rescue operations, tsunami relief, aviation disaster recovery, flooding relief, medical missions and other humanitarian response operations conducted by the United States using our military assets and personnel. These missions have been conducted in countless countries around the world, including here at home.
Included are sample Humanitarian Ration food packages used to feed civilians in numerous locales as an example of the materials and supplies provided.
Cabinet 20 WWI and WWII (Elevator Lobby)
Photo collections include portraits of local valley veterans of both World War I (The Great War) and World War II. They have been made available by the Museum of the San Ramon Valley.
It includes a 1925 editorial from the San Francisco Chronicle commemorating the opening of the Veterans Memorial Building and recognizing the original American Legion Post 246 as the foundation for the creation of the building.
Included are post caps of several American Legion and Auxiliary members of the local community.
Veterans Memorial Building Board Room & Library
The VMB Board Room and Library is available for Veterans Organizations and Veterans Support Organizations as well as the VMB Staff to conduct meetings, presentations, training and other gatherings.
Included in the Board Room is an extensive library book collection donated by the family of Mario G. Paolini, Colonel, Army of the United States, Air Defense Artillery Corps. Colonel Paolini assembled and cataloged this unique military history library over a lifetime of military service and into retirement.
This extensive library, in addition to volumes stored offsite, is maintained by the Marine Corps League Detachment 942.  The library is not equipped to loan, photocopy or to check out books, but visitors are welcomed to come in to browse or do research. Key access is available at the VMB Staff Office.  Full alphabetical listing of books is located in the associated binders.
Veterans Memorial Building Lounge
The lounge contains books and other printed material from the original Veterans Memorial Building library as well as many recent additions.  This library and historical collection commemorates the military history of the United States and those who served, especially our local valley veterans.
Above the fireplace is a portrait of Gunnery Sergeant John Ray Boswell, USMC, a long time citizen of Danville and a WWII veteran.  This portrait hung in the Library of the original building.  Gunnery Sergeant Boswell was held as a Prisoner of War in the Japanese POW camp in Cabanatuan, Philippines during the war.
The canteen cup that John Boswell used in the POW camp – and engraved by a fellow prisoner – can be seen in the POW-MIA-KIA memorial case in the hallway.
Various military videos are available for viewing on the library television system.  Visitors are welcomed to browse the collection, to relax and reflect.
Upper Display Cabinets
The upper cabinets over the main display cases contain various uniforms and uniform items of our armed services. In addition to the uniforms, they also contain personal effects, souvenirs, hats and memorabilia donated primarily by our local Valley veterans, service members and their families. These displays will rotate over time.