Veterans Memorial Building Museum and Historical Collections
Library and Historical Collections Mission:
To honor the service and sacrifices of our country's veterans, to educate and foster appreciation, understanding and knowledge of our country's history; our mission is to collect
and preserve memorabilia and books of the military history of the United States with special emphasis on veterans and their families of the San Ramon Valley.
Museum Guide
This guide is intended to inform docents and visitors to the VMB about the memorabilia in the displays. The exhibits will evolve as new items are obtained or as things are rotated from storage. Please forward any questions or comments to [email protected].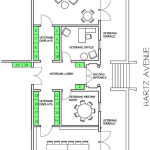 Floor Plan (click floor plan to enlarge)
Shown here is a plan view of the first floor of the veterans area of the Veterans Memorial Building. Enumerated and highlighted in green are the cabinets that house the Museum and Historical Collections, roughly in order of military conflict (when applicable).